Belly Flops Discount Candy | Irregular Shaped Jelly Beans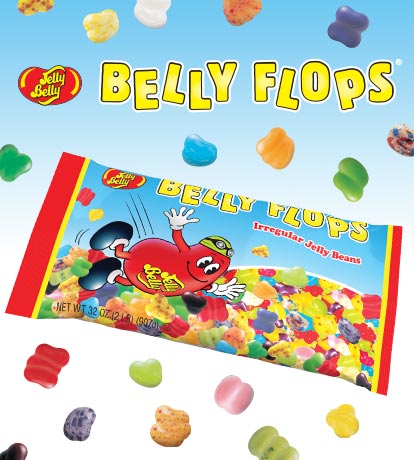 Most Popular
Price Low to High
Price High to Low
Name A-Z
Name Z-A
Newest
Oldest
Shop Online
Showing 1 - 3 of 3 products
Jelly Belly Also Recommends
This is a carousel of recommended products. Use next and previous buttons to navigate, or use keyboard navigation throughout the product slides.
Every jelly bean is special here at Jelly Belly—even if they happen to look a little less than perfect. Those less-than-perfect jelly beans are what we call our Jelly Belly Belly Flops®. You can get these irregular beans at a delightful discount at our candy store. Just because they may look a little, well, different, doesn't mean they don't have the same amazing Jelly Belly taste. In fact, if you closed your eyes, you'd never know the difference! What makes our Jelly Belly jelly beans so great is that they're the first of their kind to flavor both the inside and outside of their shell. We use authentic, real ingredients when we can, which means that our jelly beans may be small in size, but big in flavor.
What's an Irregular Bean?
Irregular jelly beans are those that don't look 100% perfect. So, you may get a bean with a shape that's a little weird, or another that missed its meet-up with the Jelly Belly logo stamper. Logos that are off-center are one visual imperfection. Off-kilter shapes are another. You might find a jelly bean that's square, rectangular, or stuck to another jelly bean.
Some of our Flop fanatics have even discovered jelly beans with flavors that don't match their colors! It's always a fun surprise when you reach for a bag of Jelly Belly Flops, which makes the snacking experience even sweeter. Consider it another fun game with our true-to-life jelly beans, similar to our BeanBoozled challenge.
Why Belly Flops Rock
Another surprise in store with our Belly Flops is the combination of flavors that you may get. Each bag of Jelly Belly Belly Flops is randomly packed, which means they may deliver an unexpected mix of jelly bean flavors. There's a good chance you'll find at least some of our all-time classics, such as Buttered Popcorn, Sizzling Cinnamon, Watermelon, Juicy Pear, or Berry Blue. You just never know what you're going to taste!
Oh yeah, and did we mention that Belly Flops Jelly Belly beans come at about half the price? This major discount is one of the biggest benefits of choosing Belly Flops jelly beans to satisfy your sweet tooth. You can enjoy double the amount of Jelly Belly candy for the same great price with these irregular-shaped yet delicious jelly beans. When you're feeling adventurous and open to whatever tasty goodness coming your way, it's definitely time to give our irregular jelly beans a go. They would be great at a kid's birthday party as a challenge or even "just because" as a sweet treat to enjoy at your desk during the afternoon energy slump. Whatever the case for enjoying our premium sweets, order your Belly Flops jelly beans today on our online candy store.