Sugar-Free Candy | Sugar-Free Jelly Beans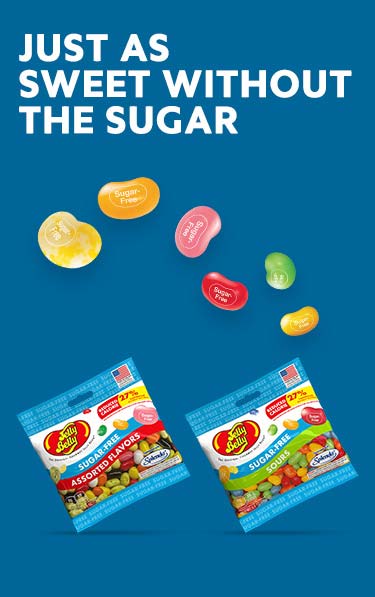 Most Popular
Price Low to High
Price High to Low
Name A-Z
Name Z-A
Newest
Oldest
Shop Online
Showing 1 - 7 of 7 products
Jelly Belly Also Recommends
This is a carousel of recommended products. Use next and previous buttons to navigate, or use keyboard navigation throughout the product slides.
At Jelly Belly, sugar-free doesn't mean taste-free, which is why our sugar-free collection offers all of the sweetness without any of the sugar. Our sugar-free Jelly Belly candy collection includes something for everyone, like sugar-free jelly beans and sugar-free Gummi Bears. With formulas that make these sugarless sweets taste just like the real deal, you'll have a hard time telling the difference. In fact, our sugar-free candies are so sweet and delicious that we think that you may prefer this guilt-free variation from our online candy store over other candies.
The sugar-free candy collection includes variations of all of our best-selling jelly bean flavors and blends. Shop for sour jelly beans, assorted jelly beans, and even individually wrapped Jelly Belly Twist jelly beans, all sugar-free and ready to enjoy. Best of all, you can order any of our sugar-free treats in small bags or in bulk, so you can stock up and save, satisfying your sweet tooth depending on your needs. In addition to sugar-free jelly beans, you can also opt for sugar-free Gummi Bears. Now you have two different ways to enjoy your favorite Jelly Belly sweets without unwanted sugar—or guilt.
Sugar-Free Jelly Bean Flavors
Our collection of sugar-free candies is ideal for dieters, those with diabetes, or anyone of any age who is watching their sugar intake. We bet if you put them in a bowl to share with friends and family, they won't even notice a difference from our full-sugar versions – they are THAT yummy. Just like our classic jelly beans and Gummi Bears, our sugar-free sweets feature true-to-life, authentic flavors you'll love.
Choosing sugar-free should be easy, which is why we made sure to have all your all-time favorite flavors as part of the sugar-free Jelly Belly lineup, so it never feels like you're missing out. Our sugar-free jelly bean flavors come in an assorted mix, including Watermelon, Juicy Pear, Buttered Popcorn, Green Apple, and Sizzling Cinnamon jelly beans, just to name a few of our delicious flavors.
Sugar-Free Gummi Bears
Sugar-free Gummi Bears are another big hit on our Jelly Belly candy store, and yes, they're also available in an assorted mix of classic flavors! Some flavor choices include Cherry, Lemon, Juicy Pear, Raspberry and Tangerine. All are ready to deliver you a totally tantalizing flavor experience anytime you need it throughout your day. Like full-sugar Gummi Bears, our sugar-free treats are chewy and packed full of flavor for a familiar snacking sensation you'll love.
Jelly Belly Sugar-Free Gummi Bears have 45% fewer calories than their full-sugar counterparts, but still, pack the same flavorful punch of other Jelly Belly candy. What a dandy way to surprise a pal who didn't know how delicious sugar-free could be while still enjoying some guilt-free candy every day. Our authentic flavors are a premium treat for anyone looking to watch their sugar, and with so many great flavors to choose from, going sugar-free has never been more delicious.
The next time you want to treat partygoers to a guilt-free snack, stock up on Jelly Belly sugar-free jelly beans and candies. With 140 years in the business, we've learned a thing or two about making delicious confectionaries, even without sugar. One thing we've learned is that jelly beans and candies simply have to taste great, whether they're made with sugar or not. That's why we've worked so hard to perfect our sugar-free recipe and to make sure it tastes as close to the original as possible. Enjoy our guilt-free, sugar-free candy whenever you want a sweet one with zero sugar.