Tropical Jelly Beans | Island Punch, Piña Colada & Kiwi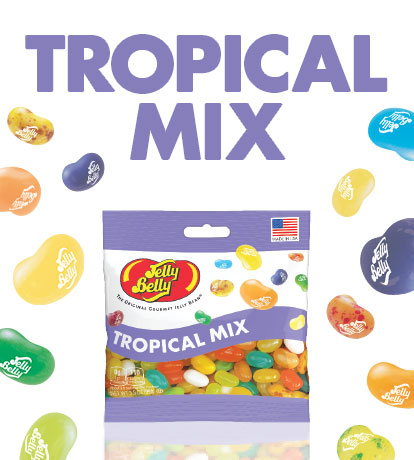 Most Popular
Price Low to High
Price High to Low
Name A-Z
Name Z-A
Newest
Oldest
Shop Online
Showing 1 - 20 of 31 products
Jelly Belly Also Recommends
This is a carousel of recommended products. Use next and previous buttons to navigate, or use keyboard navigation throughout the product slides.
Every bite feels like a little vacation when you indulge with some tropical jelly beans from the Jelly Belly Candy Company. Choose from an array of fantastic tropical flavors that remind you of a Caribbean seaside resort or jungle paradise. With bright, bold colors and tantalizing tastes, these jelly beans are just as irresistible as a getaway to a tropical island. Check out the full tropical jelly bean collection to find fruity and cocktail-inspired flavors to try.
Delicious Tropical-Flavored Candies
With our commitment to authentic, true-to-life flavors, you'll feel transported to an island paradise with tasty tropical flavors like Top Banana, Mango, Kiwi, and Coconut jelly beans. And if your idea of tropical living involves a delicious and refreshing drink, you'll also love our cocktail-inspired flavors like Island Punch, Piña Colada, and Margarita. Grab these tasty tropical jelly beans by the handful for a refreshing snack that makes you feel like you're relaxing on a sandy beach. The incredible burst of flavor in each bite is sure to have you coming back for more. Get your favorite fruit and tropical flavors in handy resealable bags for snacking on the go. These colorful candies also make great treats and party favors for festive celebrations, especially since you'll get an even better deal by ordering in bulk.
Fantastic Flavor Blends
Can't pick your favorite from these delicious tropical jelly beans? Get a blend of the best with the Jelly Belly Tropical Mix featuring 16 exotic tropical flavors, including Mango, Crushed Pineapple, Island Punch, Kiwi, and more. We also recommend our Smoothie Blend jelly beans that include tasty flavor combos like Mandarin Orange Mango, Pineapple Pear, and Strawberry Banana. And of course, you can find many of the drink-inspired candies from our tropical collection, including Margarita and Piña Colada jelly beans, in our popular Cocktail Classics® mix. Pick one of these blends to get an enticing combination of tropical flavors in every handful.
Your Own Personal Paradise
You can create your own personal tropical paradise with exotic jelly beans from Jelly Belly. Picture the swaying of palms in a gentle breeze when you open a bag of Jelly Belly Island Punch Jelly Beans to enjoy and to share with your friends. Tough day at work? Pour some Jelly Belly Tropical Mix Jelly Beans into a bowl on your desk and watch them disappear, or treat your co-workers to an original jelly bean fruit salad with Crushed Pineapple, Mango, Kiwi, and Coconut Jelly Beans. The authentic paradise flavors of these great candies can make any day better for everyone, so spread the tropical joy around.