Jelly Belly Soda Pop Shoppe | Gourmet Jelly Beans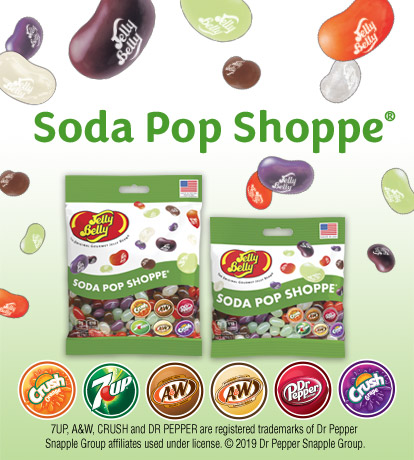 Most Popular
Price Low to High
Price High to Low
Name A-Z
Name Z-A
Newest
Oldest
Shop Online
Showing 1 - 20 of 54 products
Jelly Belly Also Recommends
This is a carousel of recommended products. Use next and previous buttons to navigate, or use keyboard navigation throughout the product slides.
Feeling thirsty? Pop open one of these packages of Jelly Belly Soda Pop Shoppe® Jelly Beans to experience the refreshing pop flavors in candy form. Whether you crave the rich, sweet flavor of A&W® Cream Soda or you love to savor the crisp, refreshing taste of 7UP®, you'll love these soda-inspired candies. And because they're made by Jelly Belly, you know you can expect unbelievably true-to-life flavors with every bite. Find out more about which fun flavors you'll find when you try these Jelly Belly Soda Pop Shoppe® Jelly Beans.
Soda Shoppe Nostalgia
One of the best things about Soda Pop Shoppe® Jelly Beans from Jelly Belly is that they can make you feel transported to a simpler time. It's like being a kid again when the best thing in the world was getting to sip your favorite soda. Now, those same flavors have been "bottled" in our jelly beans. You'll get all the classic pop flavors, including 7UP®, A&W® Cream Soda, A&W® Root Beer, Dr. Pepper®, Grape Crush®, and Orange Crush®. Every handful is bursting with authentic flavors that are just like the soft drinks you know and love. It's a great way to treat yourself to something sweet while looking back on fond memories.
Plenty to Share
It's easy to share the fun feeling of enjoying Soda Pop Shoppe® Jelly Beans with your friends and family. Hand out small bags or even little Jelly Belly Soda Pop Shoppe® bottles filled with these tasty treats. If you're planning a big event, save more by buying jelly beans in bulk. You can also get cute candy gift boxes that are perfect for birthdays, anniversaries, and other special occasions. Find the perfect package to please your taste buds when you shop for Jelly Belly Soda Pop Shoppe® Jelly Beans.
Authentic Soda Flavors
People of all ages enjoy an ice-cold soda on a hot summer day or after doing hot work for a long time, but nobody's doctor will ever recommend that as a truly healthy option. However, don't despair, because there is still a way to enjoy authentic soda flavors without the excess calories and sugar. Soda Pop Shoppe Jelly Beans from Jelly Belly taste like the real deal but won't make the number on your scale go crazy. So, enjoy a nice bite of A&W® Root Beer or 7UP® flavor and be glad that your pants will still fit. Or, get the whole Soda Pop Shoppe collection in the 16-oz. re-sealable bag and enjoy all the good pop flavors whenever you want to.