Superfruit Jelly Beans | Jelly Bean Superfruit Flavors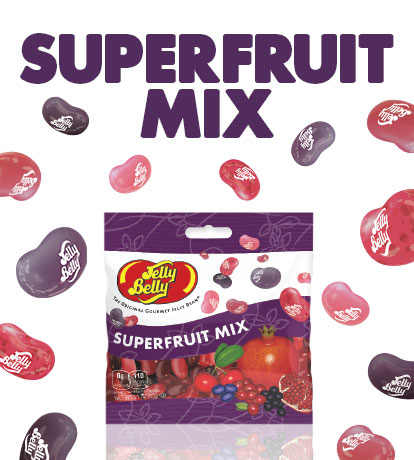 Most Popular
Price Low to High
Price High to Low
Name A-Z
Name Z-A
Newest
Oldest
Shop Online
Showing 1 - 2 of 2 products
Jelly Belly Also Recommends
This is a carousel of recommended products. Use next and previous buttons to navigate, or use keyboard navigation throughout the product slides.
Super-Yummy Superfruit Jelly Beans
There's been a lot of buzz about superfruits in recent years. Their antioxidant benefits, as well as their deliciously fruity taste, have been enjoyed by millions of superfruit fans worldwide. We've packed a powerful superfruit punch into our tiny premium jelly beans. Each Jelly Belly® jelly bean in our new Superfruit Mix is made with real superfruit juices and superfruit purees, along with the finest ingredients.
Jelly Belly Superfruit Mix Jelly Beans
Enjoy some of the most exotic, juicy and fruity flavors in our Jelly Belly Superfruit Mix, including Acai Berry, Barbados Cherry, Blueberry, Cranberry and Pomegranate. Each tiny 1.5-centimeter jelly bean has big flavor: we think that it will be difficult for you to enjoy just one. Our fun and surprising jelly beans have been developed throughout seven generations of candy-making expertise. We strive to offer the most innovative and immersive jelly bean flavors. There's a reason why we're considered The Original Gourmet Jelly Bean®!
Superfruit Mix Grab & Go® Packs
Check out our Jelly Belly Superfruit Mix jelly beans, available in our conveniently portable 3.1-ounce Grab & Go® packages in single sizes. Also enjoy Jelly Belly Superfruit Mix packages in bulk 12-count cases. Whether you're a fan of the superfruit flavor or you're looking to find a unique jelly bean taste for Halloween, classrooms or parties, you've come to the right place for the yummiest Jelly Belly Superfruit jelly bean flavors.
Jelly Belly Flash Sale Category and Great Deals
For gifts, for retail stores or for yourself, you just can't go wrong with Jelly Belly jelly beans. We're glad you're here and we hope that you stay around to browse our super-sweet products, Jelly Belly merchandise and Jelly Belly Gourmet Candy and Confections. For the hottest deals, be sure to check out our Jelly Belly Flash Sale category of our website in addition to our Bargain Outlet. Here you'll find the latest markdowns and special promotions on some of our most popular Jelly Belly jelly beans, Jelly Belly confections and Jelly Belly products.