Sunkist Citrus Mix Jelly Beans | Sunkist Jelly Beans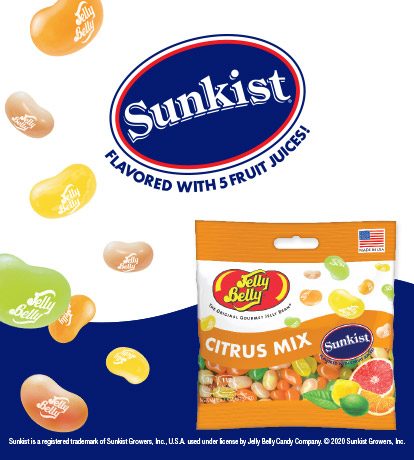 Most Popular
Price Low to High
Price High to Low
Name A-Z
Name Z-A
Newest
Oldest
Shop Online
Showing 1 - 16 of 16 products
Jelly Belly Also Recommends
This is a carousel of recommended products. Use next and previous buttons to navigate, or use keyboard navigation throughout the product slides.
Enjoy juicy flavor anywhere, anytime with these tasty little Sunkist® Citrus Mix Jelly Beans from Jelly Belly. The refreshing flavors are sure to satisfy your sweet tooth and give you a delicious little treat whenever a craving strikes. And with a variety of fantastic fruit flavors from which to choose, there are plenty of ways to enjoy the delicious taste of Sunkist® in candy form. Learn more about the quality ingredients used to make Sunkist® Jelly Beans and check out the full collection of flavors available at Jelly Belly.
Made with Real Fruit Juice
For decades, Sunkist® has been well-known for its line of delicious citrus-flavored soft drinks. But by partnering with Jelly Belly, the brand has been able to produce even more tasty treats featuring these fruity flavors. Each of our Sunkist® Citrus Mix Jelly Beans are made with real fruit juices and fruit puree, creating an especially intense and true-to-life flavor that you just won't get with other fruity candies. Like our classic Jelly Belly flavors, these Sunkist® flavors deliver a big burst of flavor in a small package. It's a bite-sized treat you just can't get enough of.
Find Your Favorite Flavor
The lineup of Sunkist® Jelly Belly Jelly Beans includes a variety of tasty citrus flavors. Enjoy the tart sweetness of Tangerine, Lemon and Lime. Indulge in Orange and Pink Grapefruit jelly beans that are just as tasty as real fruit juice. Can't pick a favorite? You don't have to! We also offer our Jelly Belly Sunkist® Citrus Mix featuring all five flavors. Grab them by the handful to enjoy a delightfully refreshing taste. Choose from small Grab & Go® Bags or buy them by the pound. You can even buy jelly beans in bulk when you shop for Sunkist® Citrus Mix at Jelly Belly.