Jelly Belly Sours, Sour Jelly Beans & Candy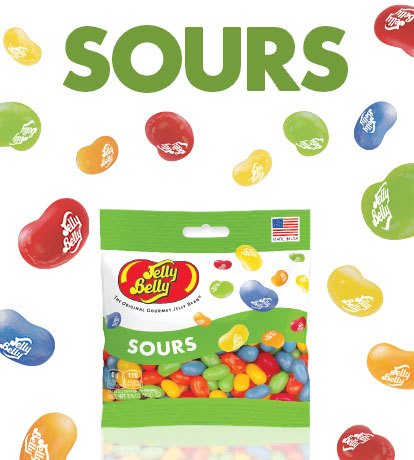 Most Popular
Price Low to High
Price High to Low
Name A-Z
Name Z-A
Newest
Oldest
Shop Online
Showing 1 - 20 of 26 products
The following product is new.
Jelly Belly Also Recommends
This is a carousel of recommended products. Use next and previous buttons to navigate, or use keyboard navigation throughout the product slides.
Sweet treats may be fun to eat, but you can have even more fun with the sour! See for yourself with the lineup of Jelly Belly Sours; sensationally sour jelly bean, and candy flavors sure to get a memorable reaction.
The secret to our sour candy success is a little bit everything. Sure, they're a little bit tart, but they're also a little bit sweet. This makes it the best of both worlds for our loyal customers. Like all Jelly Belly jelly bean flavors, they're also made with a little bit of love and also high-quality ingredients, which means they give you true-to-life flavors each and every time you eat them.
Sour-Flavored Jelly Beans
Our sour jelly beans are designed to make you pucker, and they do it with an amazing array of sour jelly bean flavors. The classic Sours jelly beans contain some of our staples from our original sour concoctions. Each mix contains the perfect combo of Sour Apple, Sour Lemon, Sour Cherry, Sour Orange, and Sour Grape.
No, they are not for the eater who only likes sweets. They're for just about anyone that can enjoy these beans, risk-taker or not. All you need to do is take them nice and slow. If you have a specific sour flavor jelly bean you just can't live without, you can buy them individually in smaller bags or in bulk. After all, you want to make sure you have plenty to share.
One thing we pride ourselves on is the adventurous eaters that entrust their faith in premium treats. Not only we do offer great sweet candies, but also sour jelly bean flavors and sour candies that you will love too.
The Jelly Belly Experience
Sharing the Jelly Belly experience is really what we're all about. With more than 140 years in the candy industry, we've learned a thing or two about making that happen continuously for our customers. We're the innovators and the first jelly bean company to infuse flavor on both the inside and outer shell of the bean. Sweet or sour, we're also totally committed to using high-quality ingredients and production methods that ensure you're getting the highest-quality candy every time.
All of our Jelly Belly beans are also fat-free, gluten-free, peanut-free, Kosher, and vegetarian-friendly. Give our Jelly Belly Sour jelly beans a try today. You might just find your brand-new favorite flavor. What are you waiting for? Visit our online candy store to pick a flavor to try today.