Snapple Jelly Beans | Classic Snapple Flavors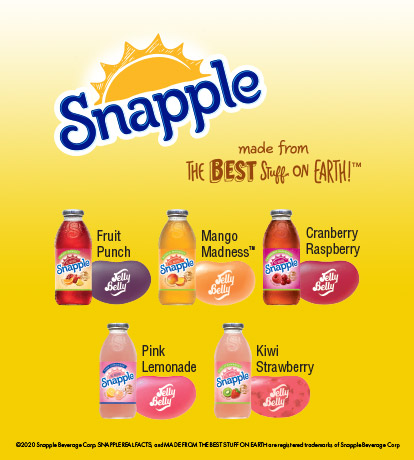 Most Popular
Price Low to High
Price High to Low
Name A-Z
Name Z-A
Newest
Oldest
Shop Online
Showing 1 - 6 of 6 products
Jelly Belly Also Recommends
This is a carousel of recommended products. Use next and previous buttons to navigate, or use keyboard navigation throughout the product slides.
Give your taste buds something to celebrate with Snapple™ Mix jelly beans from Jelly Belly. Featuring a lineup of incredible fruity tastes and Snapple flavors, each bean is simply bursting with a refreshing, juicy taste. Eat them individually or grab them by the handful to enjoy a scrumptious and sweet snacking session. If you've always loved Snapple™ drinks and you'd like to enjoy your favorite Snapple flavors in candy form, these jelly beans are just what you need.
Snapple™ Jelly Bean Flavors
Wondering what's on the Snapple™ flavors list at Jelly Belly? You'll be delighted to discover that five of the most popular drinks from this beloved brand have been converted into candy confections. There's the tart sweetness of Cranberry Raspberry and Pink Lemonade. You can go for a tropical feel with Kiwi Strawberry or Mango Madness. Of course, it wouldn't be a complete Snapple™ blend without our jelly beans featuring the brand's iconic Fruit Punch flavor. Each one is made from 100% natural flavors and colors from natural sources. They're just like the original Snapple™ drinks—Made from the Best Stuff on Earth™!
Make Snapple™ Candy Your Go-To Snack
There are so many great ways to enjoy these Snapple™ Mix jelly beans from Jelly Belly. We highly recommend our 16-oz. resealable bags that are great for keeping your jelly beans fresh between snacking sessions. Stash individual servings with our mini packs in lunch boxes or backpacks with small Grab & Go bags of these candies. You can even buy Snapple™ Mix jelly beans in bulk to use as party favors, create custom goodie bags, or stock your very own Jelly Belly candy dispenser, like the adorable Mr. Jelly Belly Bean Machine. Browse through the Snapple jelly bean collection now to find the perfect size to suit your appetite!
Snapple™ Flavor You Can Carry With You
Many of us love the taste of an ice-cold Snapple™ drink on a hot or busy day, but it's hard to carry a big glass bottle around with you everywhere you go. So why not try Jelly Belly Snapple™ Flavors Jelly Beans? A bag of the Snapple™ Mix Jelly Beans contains an assortment of the five great Snapple™ flavors you already love: Pink Lemonade, Fruit Punch, Kiwi Strawberry, Mango Madness™, and Cranberry Raspberry. Keep some of the Snapple™ Mix Jelly Beans 3.1 oz. Grab & Go® bags in the glove compartment of your car for those annoying times you are stuck in a traffic jam, or the drawer of your desk for a refreshing snack when you need a break from work.