Tuxedo Jelly Belly Bean Fudge
Get more ideas for your next party ►
Get more ideas for spring ►
Get more holiday ideas ►
Sometimes all it takes is a good fudge recipe, and we've got a foolproof one for you. With Jelly Belly jelly beans as the pop of flavor and color, this recipe stays classy and modern all at once.
Whip up a foolproof fudge recipe that gets the special treatment with layers of flavor. Customize this recipe for any celebration.
Good for Easter, birthdays, Mother's Day, bridal showers, baby showers, garden parties and dessert tables.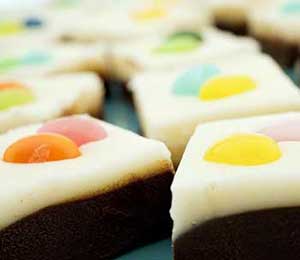 Ingredients
1 cup sugar
1 teaspoon salt
3 tablespoons unsalted butter
½ cup heavy cream
1 ¾ cups mini marshmallows
1 teaspoon pure vanilla extract
1 ½ cups semi-sweet chocolate chips
1 ½ cups white chocolate chips
Directions
Line 9 x 13 inch baking pan with waxed or parchment paper so ends overhang sides of pan; coat with cooking spray.
In saucepan over medium heat, combine half of measure of the following ingredients: sugar, salt, butter, heavy cream and marshmallows. Stir until butter and marshmallows are almost melted.
Bring mixture to boil; cook, stirring occasionally, 5 minutes. Remove from heat. Add semi-sweet chocolate chips and stir until chips are melted.
Pour mixture into lined pan. Cool until firm, 15 minutes.
Repeat basic recipe with white chocolate chips. Then pour mixture over chocolate layer. Refrigerate 10 minutes.
Score fudge into 1-inch squares, press in two Jelly Belly jelly beans per square.
Let fudge cool in pan at room temperature, 3 hours. Remove by lifting paper from pan; cut fudge along scored lines. Plate and serve.