Jelly Belly Sheep Cupcakes
Get more spring ideas ►
These delightful treats decorated with your favorite Jelly Belly jelly beans are bound to bring smiles.
Recipe makes 24 cupcakes.
Ingredients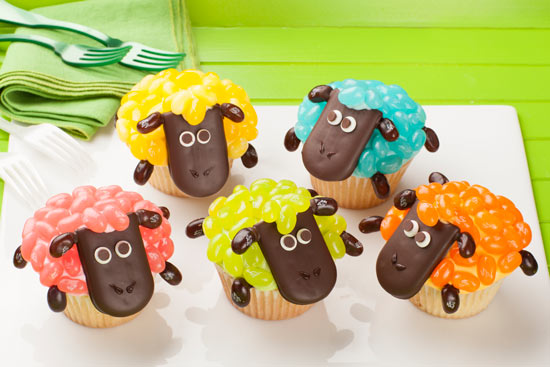 Video Tutorial
Directions
Baking:

Preheat oven to 350°F. Line 24 muffin cups with white paper liners.
Prepare cake mix according to package directions substituting buttermilk for water on packaging directions.
Divide batter between prepared pans and fill each muffin cup about 2/3 full.
Bake 15 to 18 minutes or until golden and toothpick inserted in center comes out clean.
Transfer to wire rack to cool. Once cool, freeze cupcakes at least 30 minutes to chill.
Decorating:

For sheep heads, remove filling from sandwich cookies. Cut each cookie crosswise with serrated knife to make 24 2-inch pieces. Line cookie sheet with wax paper. Microwave candy melts in small bowl, stirring every 5 seconds, until smooth, about 1 minute. Coat 2-inch cookie pieces in melted candy, allowing excess to drip back into bowl. Transfer to prepared cookie sheet. While candy is still wet, arrange dark or brown Jelly Belly bean of your choice to either side of flat cut end of the cookie as ears. Repeat with remaining cookies. Transfer to refrigerator to set, about 5 minutes.
Spoon 2 tablespoons of vanilla frosting into pastry or recloseable bag. Divide remaining frosting between five small bowls. Tint each bowl a different pastel color with food coloring (recommended: blue, pink, orange, yellow and green). Cover bowls of frosting with plastic wrap to prevent drying.
Spread tinted frosting of your choice on top of chilled cupcake to mound slightly. Place coated cookie near one edge of cupcake, round side out. Place like-colored Jelly Belly beans all over the cupcake to cover. Reheat candy melts and dip short end of the darker Jelly Belly bean into candy and press along side of cupcake as legs to match ears. Repeat with 3 more Jelly Belly beans to finish legs. Make 23 more cupcakes using other tinted frostings and beans.
Trim little top curl from mini chips. Snip a small corner from the bag with the vanilla frosting. Pipe small dots of vanilla frosting for eyes on the head cookie and press trimmed end of mini chips into dots of frosting. Use chocolate frosting to pipe nostrils on the cookies.