Spring Flowers Cupcakes
Get more ideas for spring ►
Let your dessert table bloom with flower-themed cupcakes. Bake cupcakes in varying sizes from mini to large for a whimsical garden-like presentation.
Just as tasty as they are beautiful, these cupcakes are a fantastic addition to any Easter party.
Spring Flower Cupcakes are good for Easter, birthdays, Mother's Day, bridal showers, baby showers, garden parties and dessert tables.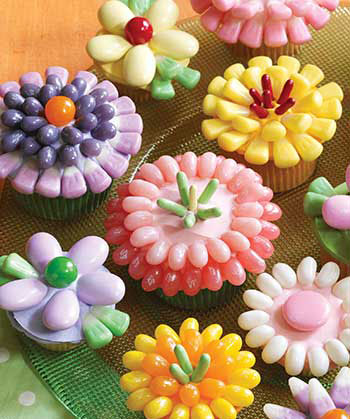 Ingredients
Standard and/or mini cupcakes
16 oz (1 can) vanilla frosting
Assorted food coloring
Bunny Corn (only available in Spring)
Chocolate Dutch Mints
Directions
Divide and tint the vanilla frosting into the desired colors with the food coloring. Cover the frosting with plastic wrap until ready to use.
Pick the desired cupcake and frosting color. Spread the frosting on top of the cupcake. Arrange the Jelly Belly beans, side by side, along the outside edge of the cupcake. Continue with another color Jelly Belly beans. Insert a few Licorice Pastels in the center.
Have fun mixing and matching the candies into flowers as shown.