Rat-a-Tat-Tat Drum Cake
Get more ideas for your next party ►
Here's a cake that's made for music lovers. It's so simple to assemble, yet so perfect for parties and get-togethers with musical themes.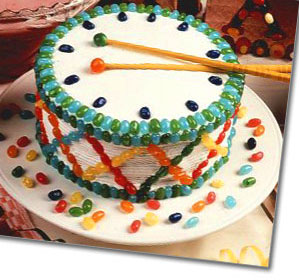 Directions
Begin a few days ahead of your party by ordering a frosted, but undecorated, 8-inch cake from your local grocery store or bakery. Select one with high sides and a flat top. Or, make your own triple decker cake finishing with a flat top. Frost generously with a white buttercream frosting.
Purchase ¾ of a pound of Jelly Belly jelly beans to match your party décor. Beginning at the base of the cake, press the jelly beans around the bottom, alternating colors of jelly beans in a continuous pattern. If the jelly beans are not sticking, use dabs of frosting to stick them.
Place Jelly Belly jelly beans around the top edge of the cake. Using a toothpick, draw the crisscross lines on the side. Place six jelly beans on each line. Complete with "drumsticks" made from chopsticks topped with round soft fruit candies.