Movie Popcorn Cupcakes
Get more ideas for your next party ►
Celebrate the "big screen" with this clever recipe featuring our blockbuster flavor, Buttered Popcorn. The cupcakes feature "popcorn kernels" made from the famous savory jelly bean.
It's a luscious twist on a night at the movies. They've got the look and flavor of buttered popcorn with a sweet cupcake kick!
Also ideal for a Hollywood themed party or movie marathons.
Recipe makes 24 cupcakes.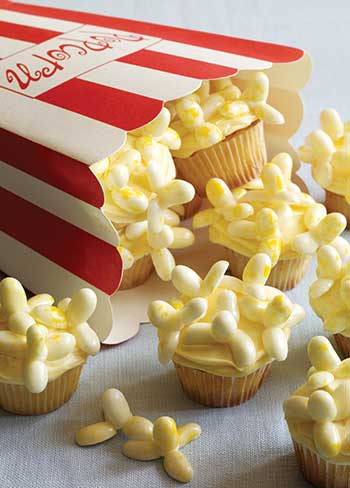 Ingredients
24 mini vanilla cupcakes, unfrosted
1 ½ cups confectioners' sugar
1 tablespoon egg white powder
1 to 2 tablespoons water
1 can (16 oz) vanilla frosting
Yellow food coloring
Directions
Combine the powdered sugar and egg white powder in a medium bowl. Add 1 tablespoon water and mix well. Add more water, 1 teaspoon at a time, until mixture is thick. Spoon mixture into a re-sealable bag; set aside.
Line 2 sheet pans with wax paper. Reserve ¾ cup of the Jelly Belly beans in a small bowl. Use a sharp pair of scissors and cut the remaining Jelly Belly beans in half lengthwise. Arrange 3 half pieces of Jelly Belly beans on the wax paper lined sheet pans into a star burst having the 3 short ends come together.
Snip a very small corner, (⅛ inch), from the bag with the confectioners' sugar frosting and pipe a small dot of frosting in the center of the jelly bean arrangement. Place a whole jelly bean in the center, short end down, to look like a piece of popped corn. Continue with the remaining frosting and whole jelly beans. Let candies dry at least 1 hour.
Tint the vanilla frosting with the yellow food coloring to make a pale yellow color. Spread frosting on top of the cupcakes. Gently remove the dry popcorn jelly bean arrangements from the wax paper and place 4 to 5 pieces on top of each cupcake.
Place the cupcakes in a popcorn box to look like they are spilling out of the box.