Movie Night Snack Mix
Get more ideas for your next party
Make this salty and sweet snack for your guests for any party situation, sleepover, or impromptu hangout. Using popcorn, ground cinnamon, dried berries and your favorite mix of Jelly Belly jelly beans, this is a recipe you'll use over and over again.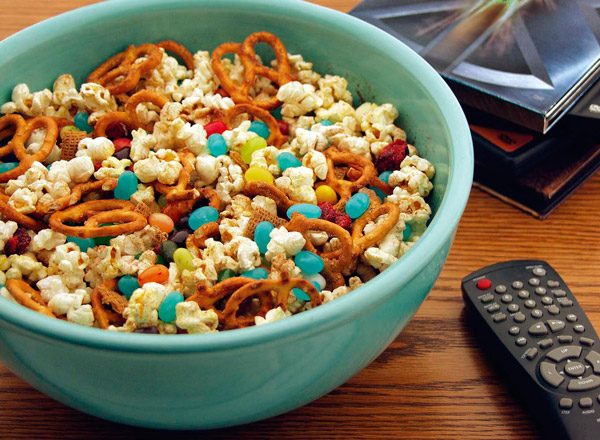 Ingredients
1 tablespoon sugar
1 tablespoon ground cinnamon
2 cups prepared air-popped popcorn
1 cup bite-size crispy wheat squares
½ cup dried cranberries, cherries or raisins
2 ½ cups assorted Jelly Belly jelly beans
2 cups fat-free mini pretzels
Nonstick cooking spray, butter flavor
Directions
In a small bowl, combine sugar and cinnamon. In a large bowl, combine popcorn, cereal, and cranberries.
Spray popcorn mixture lightly for 4 to 5 seconds with cooking spray; quickly toss with sugar mixture. Stir in Jelly Belly beans and pretzels. Store in covered container.
Stir well before serving. For a fun hostess gift, spoon into clear container and finish with a pretty ribbon.