Jewel Jelly Beans | Jelly Belly Jewel Collection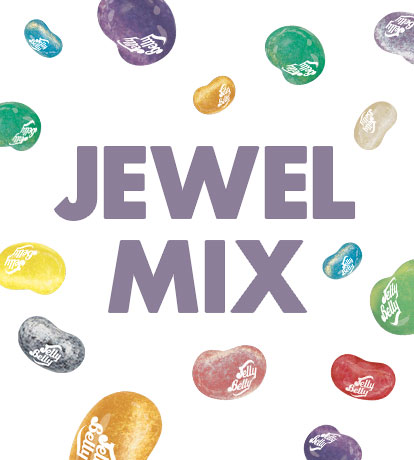 Most Popular
Price Low to High
Price High to Low
Name A-Z
Name Z-A
Newest
Oldest
Shop Online
Showing 1 - 20 of 33 products
The following product is on sale.
Jelly Belly Also Recommends
This is a carousel of recommended products. Use next and previous buttons to navigate, or use keyboard navigation throughout the product slides.
Jelly Belly®: Premium, Innovative Candies
Throughout our over 140 years of this candy-making business adventure, Jelly Belly has sought out delicious new ways to offer our customers the yummiest products. Jelly Belly saddle-shaped jelly beans are not only deliciously made with real fruit juices and purees, we think that they're some of the best-looking jelly beans, too. Our Jelly Belly Jewel Collection of jelly beans are particularly pretty, thanks to their special shimmering, sparkling finish.
Fabulous Flavors: Jelly Belly Jewel Collection
Our Jelly Belly Jewel jelly beans are inspired by glistening gems. These beans are available in some of our most popular Jelly Belly flavors, including Jewel Berry Blue, Jewel Blueberry, Jewel Bubble Gum, Jewel Cream Soda, Jewel Ginger Ale, Jewel Grape Soda, Jewel Sour Apple, and Jewel Very Cherry. Each small jeweled jelly bean packs a powerful punch of flavor that never disappoints; each Jelly Belly jelly bean is meant to be enjoyed and savored. So, go ahead, enjoy an immersive, unique experience that only Jelly Belly can create.
Jelly Belly Jewel Collection Jelly Beans
Our Jelly Belly Jewel Collection is available in a wide variety of packaging options. Whether you're a fan of jewel color jelly beans or are looking for a sweet treat to set out at special occasions, weddings, or events, our Jelly Belly Jewel Collection of jelly beans has a package that will meet your needs. Shop 10-pound bulk jelly beans in a variety of single flavors and assorted jelly bean mixes. You can also purchase our conveniently portable 16-ounce resealable bags. Our Jelly Belly Jewel Collection is also available in special holiday mixes, like our Jewel Valentine Mix, available in either bulk or in 7.5-ounce gift bags.
Jelly Belly: The Original Gourmet Jelly Bean®
Have a jelly bean lover on your gift-giving list? Jelly Belly world-famous jelly beans make great gifts. Our Jewel Collection jelly beans are available in prepackaged Jewel Spring Mix glass jars too. They also can be added to decorative mugs, baskets, or containers for a sweet treat they'll love. While you're here, be sure to check out everything from our classic jelly bean flavors to our exclusive mixes and popular pop culture collections. Check out the Krispy Kreme Doughnuts® Mixes, Cold Stone® mixes, organic Jelly Belly jelly beans as well as Star Wars™-themed jelly beans, and DC Comics Superhero jelly beans and gifts. There's something for everyone to love at Jelly Belly!
The Gems of the Candy World
A candy that is attractive to look at as well as flavorful is a great way to greet people who come to your office or home. Pour some jewel jelly belly flavors from Jelly Belly jelly beans into a lovely bowl on your desk or coffee table and let them shine for everyone who enters the door. Or, you can become quite artistic when decorating a large sheet cake by using the shiny jewel flavors to create a lovely image or puzzle on top of the cake. Imagine combining the colors to match those of a college or university at graduation time. The possibilities are only limited by your imagination and creativity.