Jelly Belly Swirl Bark
Get more ideas for your next party ►
Get more ideas for spring ►
Classic chocolate bark gets a splash of color from a swirl of food coloring and a handful of Jewel Jelly Belly jelly beans for extra shine. Our easy tutorial shows the simple steps.
Jelly Belly Swirl Bark is great for Hollywood-themed and sleepover birthday parties. Fun for DIY favors, Easter, Mother's Day, dessert parties and potlucks.
Recipe makes 8 pieces, about 16 to 20 servings.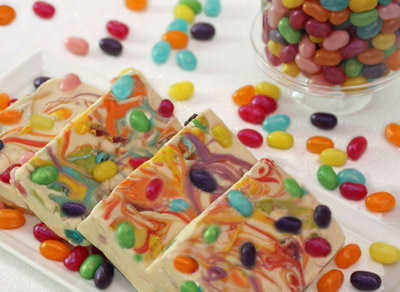 Ingredients
1 bag (12 oz) white chocolate chips
Assorted food coloring
Directions
Pour chocolate chips in a 2 cup glass measuring cup and microwave 2 to 4 minutes until barely melted being careful not to overcook. Or, melt chocolate on top of a double boiler.
Stir to be sure all the chips are completely melted.
On wax paper pour out chocolate into a 2-inch puddle, spreading to about ¼-inch thickness. While still hot, drop a few drops of desired food coloring randomly through pan.
Take a toothpick and stripe white chocolate bark to create whimsical designs. Then sprinkle a handful of Jewel Jelly Belly jelly beans, and press beans lightly into the chocolate.
Allow to cool completely.