Jelly Belly Peppermint Bark Extravaganza
Get more holiday ideas ►
It's a Jelly Belly Peppermint Bark Extravaganza! A great treat to share with loved ones and keep for yourself!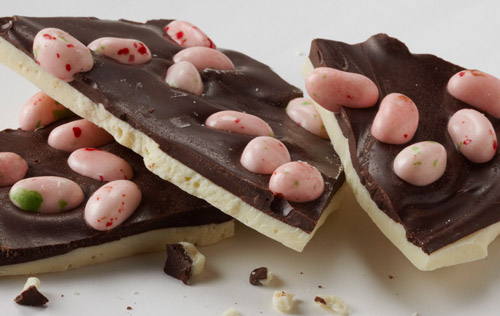 Ingredients
1 bag white chocolate chips
1 bag dark chocolate chips
1 tablespoon butter
Directions
Line baking sheet with parchment paper. Melt white chocolate chips in pan over slowly simmering water. Stir until melted. Pour onto parchment and spread into ¼ inch thick layer. Allow to cool completely.
Repeat with dark chocolate chips and 1 tablespoon of butter. Pour on top of white chocolate and spread evenly. Sprinkle Jelly Belly beans on top, press beans lightly into chocolate and allow to cool completely.
Break into large chunks. Package for gifts or serve immediately.