Jelly Belly Bunny Cupcakes
Get more spring ideas ►
Dazzle your friends and family with these charming Bunny Cupcakes!
Recipe makes 24 cupcakes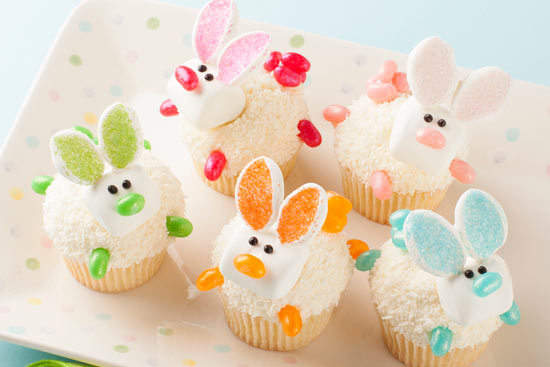 Ingredients
1 box (16.5 ounces) vanilla cake mix
3 large eggs
1 cup buttermilk
1/3 cup vegetable oil
1/4 tsp coconut extract
1 can (16 ounces) vanilla frosting
1 1/4 cups desiccated coconut or finely chopped shredded coconut
1 1/2 cup Jewel Spring Mix Jelly Belly® jelly beans
1/2 cup white chocolate melting wafers
3 tbsps each bright pink, light pink, orange, green and light blue decorating sugar
48 marshmallows
24 thin pretzel sticks
1 tube (4.25 ounces) chocolate decorating icing


Directions
Preheat the oven to 350°F. Line 24 muffin cups with white paper liners. Prepare cake mix according to package directions, substituting the buttermilk for the water in the recipe. Divide the batter between the prepared cups, about 2/3 full, and bake until golden about 15 to 18 minutes. Transfer to a wire rack and cool completely. Refrigerate cupcakes until ready to decorate.
To make the bunny ears, cut 1/4 inch from each short end of a marshmallow and dip the cut sides of the end pieces into the desired sugar color to coat. (When you cut, discard the small remaining piece in the center of each marshmallow.) Repeat with 23 marshmallows and the sugars to make 24 pairs of colored bunny ears. For the head, insert a pretzel stick into a rounded side of a whole marshmallow.
Line a cookie sheet with wax paper. Arrange 2 like colored sugared marshmallow ears, lengthwise, side by side, and the head marshmallow, on its side below the ears (The pretzel stick will be at the bottom, on the opposite side from the ears).
Place the white candy melts in a recloseable bag. Microwave the bag, stopping to massage every 5 seconds, until smooth, about 1 minute. Snip a small corner from the bag. Pipe two dots of melted candy on the top side of the marshmallow head to attach the sugar coated mini marshmallow ears. For the nose, pipe a small dot of candy to the front side of the marshmallow head and attach a Jelly Belly bean that matches the ear color. For the tail, pipe a dot of melted candy on the wax paper and arrange 4 Jelly Belly beans of the same color together on the dot. Refrigerate until set, about 5 minutes.
Place the coconut in a medium bowl. Spread the top of a chilled cupcake with a mound of vanilla frosting and make smooth. Roll the top of the cupcake in the coconut to coat. Repeat with the remaining cupcakes.
To assemble, insert the pretzel end of the head close to one edge of the frosted cupcake. Pipe eyes with the chocolate icing. Add the tail with a dot of frosting to secure. Press 4 Jelly Belly beans into the side of the cupcake as the feet using matching colored beans. Repeat with the remaining cupcakes and candies.