Creepy Critter Cupcakes
Spooky creatures have never been this tasty! Jelly Belly jelly beans and Confections make these cupcakes perfect for Halloween, or any time you want a scary treat.
Recipe makes 16 cupcakes.
Video Tutorial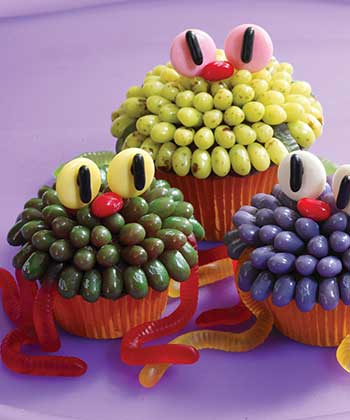 Ingredients
4 jumbo cupcakes, baked in orange paper liners
12 standard cupcakes, baked in orange paper liners
1 can chocolate frosting
32 Mint Cremes
6 cups (about 3 lbs) Jelly Belly jelly beans in flavors:
Watermelon | Juicy Pear | Island Punch
Directions
Spoon ¼ cup of the chocolate frosting into a small zipper bag. Press out the excess air and seal. Snip a small corner (1/8 inch) from the bag. Pipe a dot of frosting on the flat side of the Mint Cremes and attach a Licorice Pastel to make the monster eyes.
Working on 1 cupcake at a time, spread some of the chocolate frosting on top of a cupcake, mounding slightly. Arrange like-colored Jelly Belly jelly beans all around the outer edge of the cupcake lengthwise from center to outer edge. Place another row of jelly beans, slightly overlapping the first row. Continue adding rows of Jelly Belly jelly beans until it is covered. Remove 4 of the jelly beans along the outer edge and in their place add 4 Sour Neon Inchworms as legs. Add a dot of chocolate frosting to secure if necessary. Pipe dots of frosting and attach the Mint Creme eyes and red jelly bean nose on top of the cupcake. Repeat with the other cupcakes, jelly beans and frosting.